Etisalat Misr celebrates the stories of yesterday, powering the new generation of connectivity

This year marks Etisalat Misr's 15th anniversary. As the industry celebrates the essence of our 15 years milestone, we continue to fulfill our mission to enrich lives in a changing world. The series of successes Etisalat Misr has witnessed over the past 15 years have paved the way for driving the future and empowering societies, through designing and delivering digital solutions with innovative problem solving.
Today, a lot is happening in the tech-telco space, augmenting the industry, architecting the future, and enriching lives. And as innovation continues to reshape the future, Etisalat Misr is working on leading-edge technologies and services that will continue to support, build and develop communities as we operate.
As we turn fifteen, we continue to be consumer-driven with putting "people" at the core of our strategy by providing evolving technologies, new business models, and keeping up with the increased traction of OTT services. Coming at such an opportune time of technological advancement and digital enablement, the 15th anniversary serves as a reminder to embrace what the future holds, which is not only about looking forward and assessing what's coming next, but more about learning from the experiences of the past.
The time is now: From telco to tech-telco
The pace of change in the telecoms industry is increasing by the minute as telecom operators race to bring new digital products and services to market, attention must be paid to the opportunities ahead, capitalizing on the significant impact of technological enablement.
"From telco to tech-telco" is what the future of the telecommunications industry looks like. This is a golden opportunity for telecommunication operators to renew their focus; with a huge potential that generates additional and significant value for telecom players, putting more focus on customer-centricity and moving from traditional network services toward more user-friendly, service-focused business and operating.
With the launch of 5G, artificial intelligence, IoT, digital enablement is becoming much faster, and tech-telcos are trying to go beyond core connectivity offerings; becoming a technology player compared with just a telco player. As telcos take this opportunity and spread their play across the value chain, they are keen on providing more than the utility layer of connectivity and starting to look more like "industry-verticalized telco companies".
Unlocking growth through connectivity
The digital revolution has long inspired organizations to reinvent themselves. While tech-telcos rose to the challenge of 2020, the pandemic amplified trends that were already redefining the basis for success. It increased the urgency of profound reinvention, and provided a blueprint for a faster, leaner operating model, made possible by rapidly shifting behaviors. And it put tech-telcos front and center.
Regarded as a digital enabler for society, Etisalat Misr plays a critical role in enabling digital services for consumers and the economy, building agile and scalable services on top of the connectivity, and ensuring an extended reach in delivering digital services.
As tech-telco is now going beyond the "nice to have", it is morphing into a basic and essential utility. People around the world are gradually becoming more dependent on communications service providers to enable their lives on a daily basis and on a sundry level. This is in addition to the pressure put on the global telecommunications infrastructure, transitioning to the new normal. Everybody (consumers and enterprises alike) love everything digital and are willing to pay a premium for higher bandwidth and superior network quality.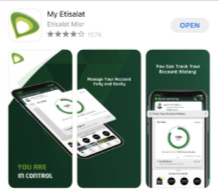 Today, there is no turning back
In 2022, the industry is at a crossroad. Etisalat Misr chose to make a bold choice and reinvent itself to create a permanent new role for itself in the tech-telco industry, reshaped by a pandemic that put them at the center. We are investing heavily in network expansion, and digital customer interfaces such as the MyEtisalat mobile app and venturing into new streams such as cloud, security, fintech and OTT entertainment services.
Becoming Egypt's top tech-telco brand is our vision at Etisalat Misr, positioning the connection for a creative digital-first economy with integrated network leadership at the core, and developing a powerful digital infrastructure powered by such a profound transition, by putting customer needs first.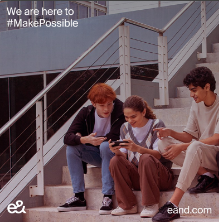 And together with e&, we bring people closer to everyone and everything they love in this world, making key changes that drive growth to the consumer experience, pushing forward Etisalat Misr's commitment to accelerate digital transformation through providing outstanding consumer experiences while investing in ensuring a sustainable and strategic growth; one that creates a smarter, safer and more connected world.
Here is to the next 15 years of Etisalat Misr, 15 years of success, and 15 years of pioneering.